Laura J. Evans
CPDT-KA, member of APDT, CGC Evaluator
Pawsitive Pups is owned and operated by Laura Evans. She began training when she adopted her first dog, Sela, in 2005, who also came with a set of problems that required quick learning of how to influence behavior! She started her career in assisting other pet owners with their dogs in 2006, joining the Cleveland Animal Protective League as a volunteer trainer. After this program was ended, she joined the North Coast Dogs LLC team in 2007. She is a professional member of the Association of Pet Dog Trainers (APDT). The APDT is a professional organization for dog trainers committed to using education to become better trainers. She has also become a certified dog trainer through the Certification Council for Pet Dog Trainers by passing a comprehensive exam on humane training practices and the latest scientific knowledge relevant to dog training. She is also a Canine Good Citizen (CGC) Evaluator. Laura is dedicated to enhancing her knowledge of dog behavior and training, and does so by attending educational seminars as well as through her work with area shelters.
Methods
Our techniques center on using positive reinforcement to get the behavior we want, when we want it. We do not advocate using force or intimidation to threaten your dog into offering behavior, or to suppress behavior. It has been scientifically observed that using these techniques, especially by the average dog owner, can result in increased aggression from your family pet [1]. There is another way, that your whole family can do with no need to change who you are! This is what we work on teaching the families that have come to us to find the safer, humane, and fun way to train their pet. We focus on using both classical and operant conditioning to influence the behavior of your dog, so you get the results you want when you want them! We have succeeded when the bond between you and your dog is improved, pawsitively.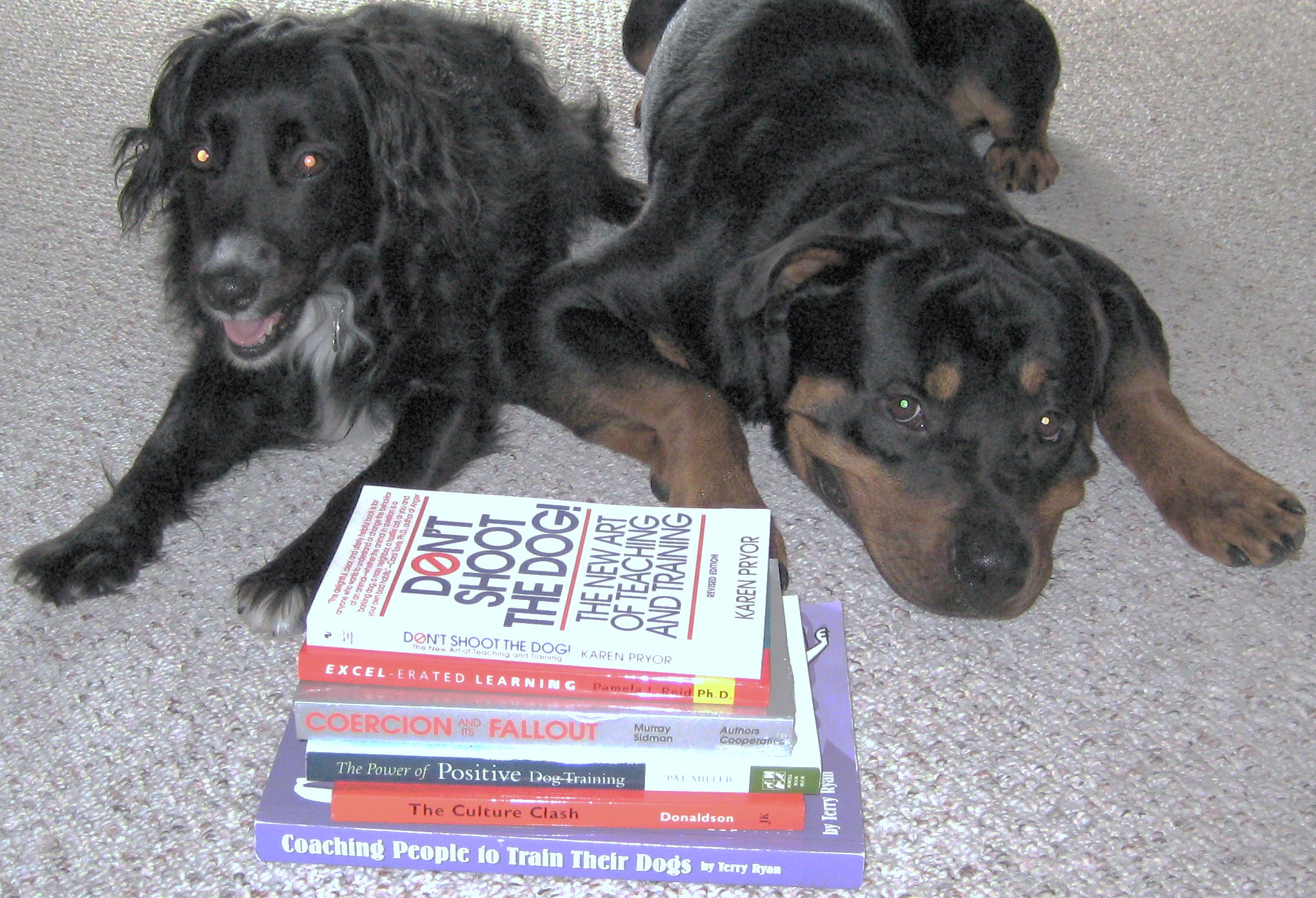 Laura's pups: Sela (July 2003 - ) and Fred (Oct 2006 - )





1. M.E. Herron, F.S. Shofer, I.L. Reisner. Survey of the use and outcome of confrontational and non-confrontational training methods in client-owned dogs showing undesired behaviors. Applied Animal Behavior Science, Vol 117, Issues 1-2, Feb 2009, Pg 47-54.