Help raise puppies that can excel in most homes, whether as a family pet or competitor.

Increase each puppy's ability to handle stress and improve social skills.

Start off on the right paw by introducing simple skills.

Get a head start on determining puppy temperament, so you can find them the perfect home!

Program lasts from pre-birth to week 10 of each puppy's life. As a new puppy owner, get a 10% discount on puppy classes at North Coast Dogs, for pups that have finished the program.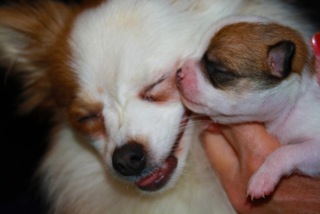 About 35% of a dog's behavior is influenced by genetics...as breeders you have the opportunity to influence 65% of your litter's behavior before they leave your hands! You've done as much as you can about genetics, let us help you positively influence the rest of the package.
Many of an adult dog's problem behaviors can be traced back to inappropriate fear. By working on early socialization and training, you can increase each puppies ability to handle new situations with less anxiety. Let's work on creating 'bullet proof' dogs, and increase the chance of each puppy finding its forever home from the beginning. Already incorporate socialization and training for each litter? Let us lend a helping hand, to increase the effectiveness of your existing program.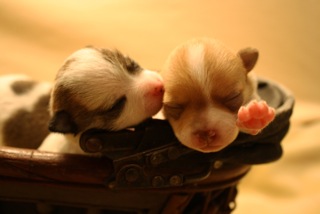 In the market for a new puppy? Ask the breeder if they are involved in a program to help early socialization: if not, refer them to us! Let's reduce shelter populations, one puppy at a time.

Puppy Aptitude Evaluations:

We are also available to perform puppy aptitude evaluations, an invaluable tool to help place your puppies with the right family. Evaluation will take place in our facility and is best done at 49 days, so schedule early so you get your preferred date!